Hey Guys -
Back about 12 years ago I started to get into mini painting. But, I really only just got started before a newborn came along and priorities shifted a bit.
Anyway, trying to get back at it now. I have a couple minis I started way back then that I'm trying to finish up (will post those up after I've got them completed). But, It's been so long that I've forgotten a lot, so I've been trying to "relearn" a few techniques.
But this one will be my first "from scratch" work since picking up the brush again. I thought I'd chronicle this a bit for y'all.
Now, I'm not going for any awards here.
Mainly, my goal is something along the lines of "high quality tabletop" and not really a display piece. I'll be experimenting with some NMM (never tried that before!) and various techniques, so this piece is really just a "warm up" piece I guess. Not planning on doing anything extraordinary with the base (keeping the integral one).
Here it is, an old Ral Partha (iirc!
) sculpt. Primed in black. (Upon reflection, I think I'd rather have gone with a gray primer for this one, but ah well, lets see how it turns out.)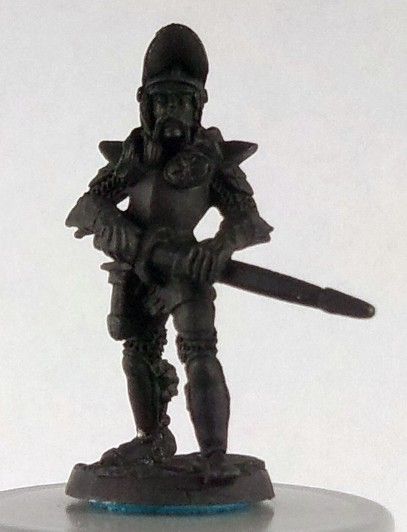 Note: I'm still working out some photo taking techniques for these... so, apologies for the mediocre photo quality...