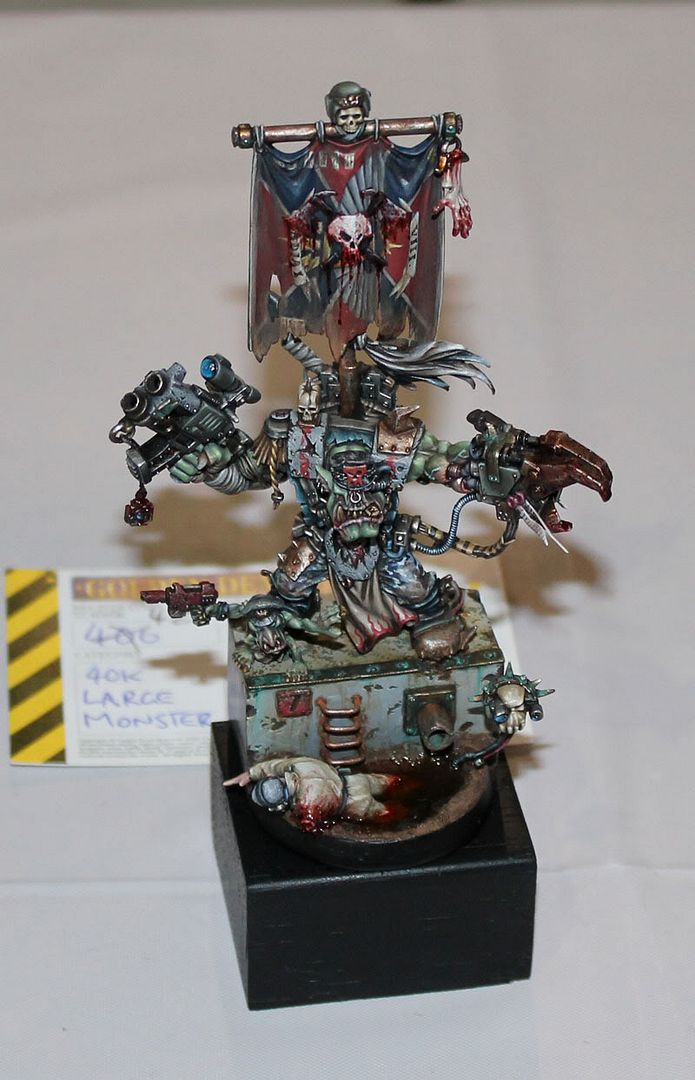 Click to see full-sized image
Slayer sword
---
pictures of other entries:
http://www.mainlymedieval.com/ozpainter ... um.php?f=9
I think there is Dark Angels dreadnot painted by Bohun (gold in vehicle category), correct me if I'm wrong
Click to see full-sized image
Stop competing with others. Start competing with yourself.
---
The Better Choice

Posts: 17415
Joined: 21 Jun 2005, o 17:41
Location: Silesia, Poland
Contact:
looks like Bohun's dread indeed...
Nameless Painter Blog
==================================================
---
I wonder if he knows about it. Been through such situations already...
---
well nice entrys ther some iven i know from this forum
http://i754.photobucket.com/albums/xx18 ... G_0249.jpg
end um Bohun Dred ???
"GOOD RACK CAN MAKE A DONKEY ATTACK LION"
http://maru.worldblogcafe.com/

---
Code: Select all
Zgadza się, to mój dreadzik :( 

Robiłem go na zlecenie i najwyraźniej klient postanowił zrobić mi prezent  8) 

Jestem w trakcie załatwiania tego z ludźmi z Kangurzego Landu  :doh:
It is my dread indeed
It had been a commissioned job and apparently my customer decided to make me a surprise
I'm currently discussing this issue with people from OZ
Last edited by
Nameless
on 4 Oct 2011, o 08:52, edited 1 time in total.
Reason:
translated Bohun's post to English
---
The Better Choice

Posts: 17415
Joined: 21 Jun 2005, o 17:41
Location: Silesia, Poland
Contact:
@Bohun - well, congrats anyway
I hope you can deal with this quickly.
@Jason - any luck with Saruman? did you have more entries?
Nameless Painter Blog
==================================================
---
Chest of Colors

Posts: 2457
Joined: 8 Apr 2009, o 17:09
Location: Portugal
its always sad to see something like this hapening, but on the other side its a deserved prize for a wonderfull paint job
---
yeah, such things happened already. some works of Polish painters were entered by their customers. I don't know how many of them were entered on their behalf and with their consent.


Ana's works were entered twice (never with her consent) and the first time (Canada) the staff didn't care much to fix it. Probably too much ado. The customer entered the minis as his own and the demon is officially his. He apologized and sent the trophy to Ana, but the person credited for this work is still (officially) him.

The second customer wanted to make Ana a nice surprise and entered the minis as hers. They won a demon again, but we informed GW about it and because Ana was not present at the event the award was revoked and given to the next winner in the queue.
Fair enough.
---
I think there was also a problem with Karol Rudyk's work in US GD?
miniatures painted:
2011 - 83, 2012 - 38, 2013 - 45, 2014 - 56, 2015 - 95, 2016 - 106, 2017 - 22
---