Forum rules
Prosimy, abyście w tym dziale starali się zamieszczać prace i dyskusje na temat
gotowych
modeli. Jeśli macie fotki WIP (tzn. z przebiegu prac), to zamieśćcie je w
stosownym dziale
i ewentualnie podajcie link do takiego tematu w poście z gotową pracą.
skora i metalki sa mega
tylko jeszcze ciuszki dopracowac i bedzie extra;D
....::::Dar Makabere Tanza Des Vampires:::....
Ja to kurcze nic nie umiem skończyć
prace nad gnoblarem musiałem zawiesić z powodu przypalonej ręki i zakończenia konkursu, więc wziąłem sie za drugi ,tym razem z gatunku wh40k i teraz chyba już wymaluję wszystko do końca bo mnie koleżanka terroryzuje i zmusza do malowania
tak czy siak mazam teraz jednego ziomka z Death Company i puki co pozwolę sobie na zaprezentowanie podstawki, oczywiście to ciągle WIP ale jestem zadowolony z fresku
całą figsę wrzucę niedługo bo jest już na wykończeniu a pokazywanie WIPów przynosi mi chyba pecha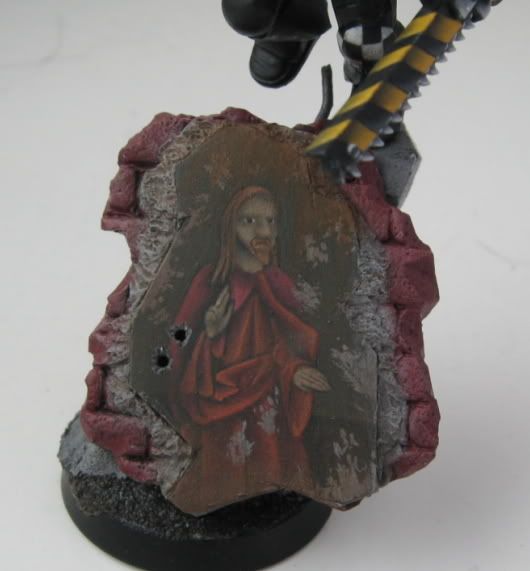 Click to see full-sized image
Sonny Crockett
Posts: 1579
Joined: 19 Jun 2005, o 08:48
Location: poznan/poland
Contact:
won't tell anything...but the freehand remind me someone i know in warszaw
Podoba mi się, nawet bardzo, choć freehand trochę kanciaty jest (moze mi sie wydaje), ale i tak bardzo ładny.
I tak btw. - nie mam zupełnie nic przeciwko malowaniu elementów religijnych na figurkach
I'm not from Warszaw ,so i dont know which fresk this can remind you ;] this fresk is most popular theme at XIV century but i paint this from my head. ufff... sory for my Bad English
To nie jest Jezus!
nie mam pojęcia jak to sie stało ,że tak bardzo go przypomina, nawet moja mama powiedziała ,że to profanacja
Żadna tam profanacja
tak czy inaczej ładny freehand
ja tez nie mam nic przeciwko motywom religijnym na figurkach, ale jednak w niektorych przypadkach jest to zle odbierane, np. tu
http://www.coolminiornot.com/122271
Fajna podstawka, czekamy na wiecej
PO POLSKU PROSZĘ!!!!

albo zacznę przydzielać kompromitujące awatary, podpisy i tytuły znacznie gorsze od tego jaki dostał Demi!
a ten pan na fresku to albo święty albo Jezus - nie ma w sobie nic 40-kowego, za to sporo z Jezusa. dla mnie to ładnie pomalowany Jezus